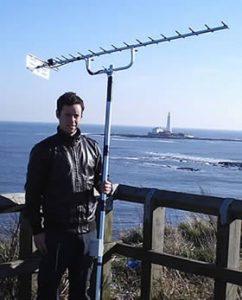 We use only the highest quality materials from the most experienced manufacturers. TV Aerials are of high guage aluminium, brackets and masts are galvanised and coaxial cable double screaned as standard. Below are our products and prices, please note that VAT is included in this price.
Basic TV aerial £125
10 element digital / analogue tv aerial attatched to existing mast
Double screened coaxial cable
Standard TV aerial £145
6 inch chimney baracket and lashing kit
4-5 foot galvanised steel mast
10 element digital / analogue tv aerial
Double screened coaxial cable
2 year waranty
Note: buildings which are over 40 foot to the gutter may cost extra.
Premium TV aerial – £185
9 inch or 12 inch steel galvanised heavy duty bracket
chimney lashing kit
6 foot 1.25 inch 16 guage alloy mast
high gain TV aerial
double screened coaxial cable
5 year warranty
Distribution systems
Using vision mast head amplifier and power supply units. Price includes TV aerial premium installation set up.
2 points £245
3 points £265
4 points £285
5 points £305